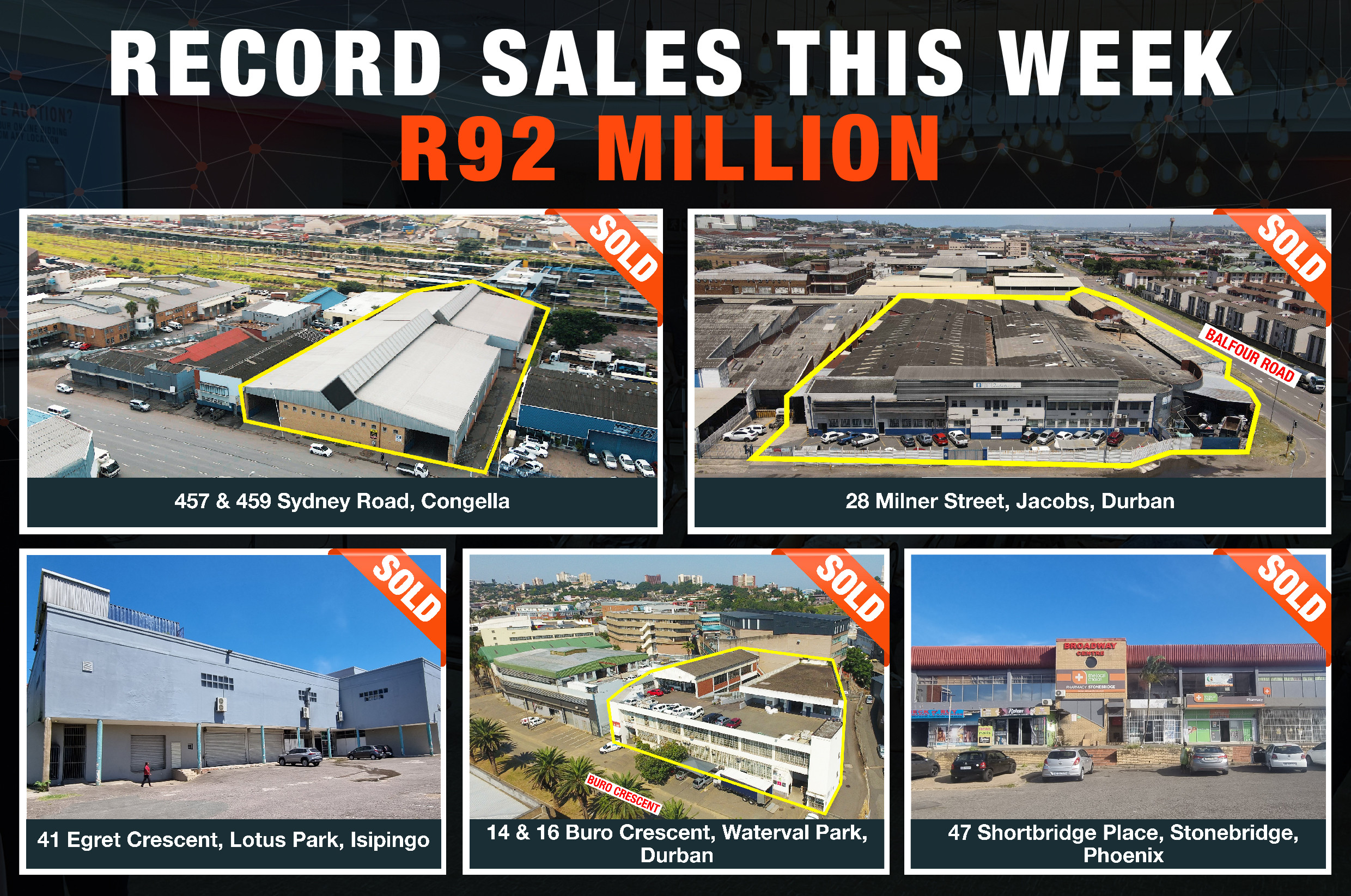 The 10th anniversary of In2assets to be celebrated on 1 April 2022, marks both record sales at a single auction and the biggest ever property auction to be hosted by us on one day during April this year.
On 23 March 2022, 12 properties from KwaZulu-Natal, the Western Cape and Gauteng were submitted to auction. Gross offers in excess of R200 Million were received from multiple online bidders as well as registered bidders on the floor.

Of these offers, R92 Million were accepted and concluded on the fall of the hammer. All other offers remain pending, subject to confirmation. The result of this auction is evident that warehousing in close proximity of the Durban harbour remains the highest demand real estate in the Country. 2 Properties in the Durban South Basin alone sold on the fall of the hammer for more than R30 Million each after fierce bidding, which exceeded the reserve prices. 2 Suburban retail centres in the Durban area were amongst those immediately confirmed.

On 21 April 2022, In2assets will host their biggest ever property auction within their short existence of 10 years with 30 properties listed at an estimated value of over R1 Billion Rand.

This auction includes the sale of 5 immaculate industrial properties and form part of a portfolio disposal.


Warehouses/Factories in Shakaskraal – 3 Combined Warehouses - GLA:± 17 598 m² and yard area of ± 25 000 m².


160 & 161 Beechgate Crescent, Umbogintwini comprises of 3 land parcels ± 25 493 m²; ± 18 021 m²; ± 28 727 m², ideal for development, trucking/logistics.


36 Franks Avenue, Congella: GLA: ± 2 978 m² with 400 Amps power within 1 kilometre from the Durban Port


116 Leicester Road, Mobeni: GLA: ± 12 178 m², 4 dock levellers and 2 500 Amps within the port precinct


475 Sydney Road, Congella: GLA: ± 3 202 m² with a corporate tenant which provides a gross annual income of ± R1.9 Million


A top farm of almost 3000 Ha will be offered to the market in the Dundee area on 19 April 2022. The high levels of activity experienced from both Sellers and Buyers indicate strong confidence and trust in the Real Estate Industry and In2assets predicts new records to be broken in quick succession in the months to follow.