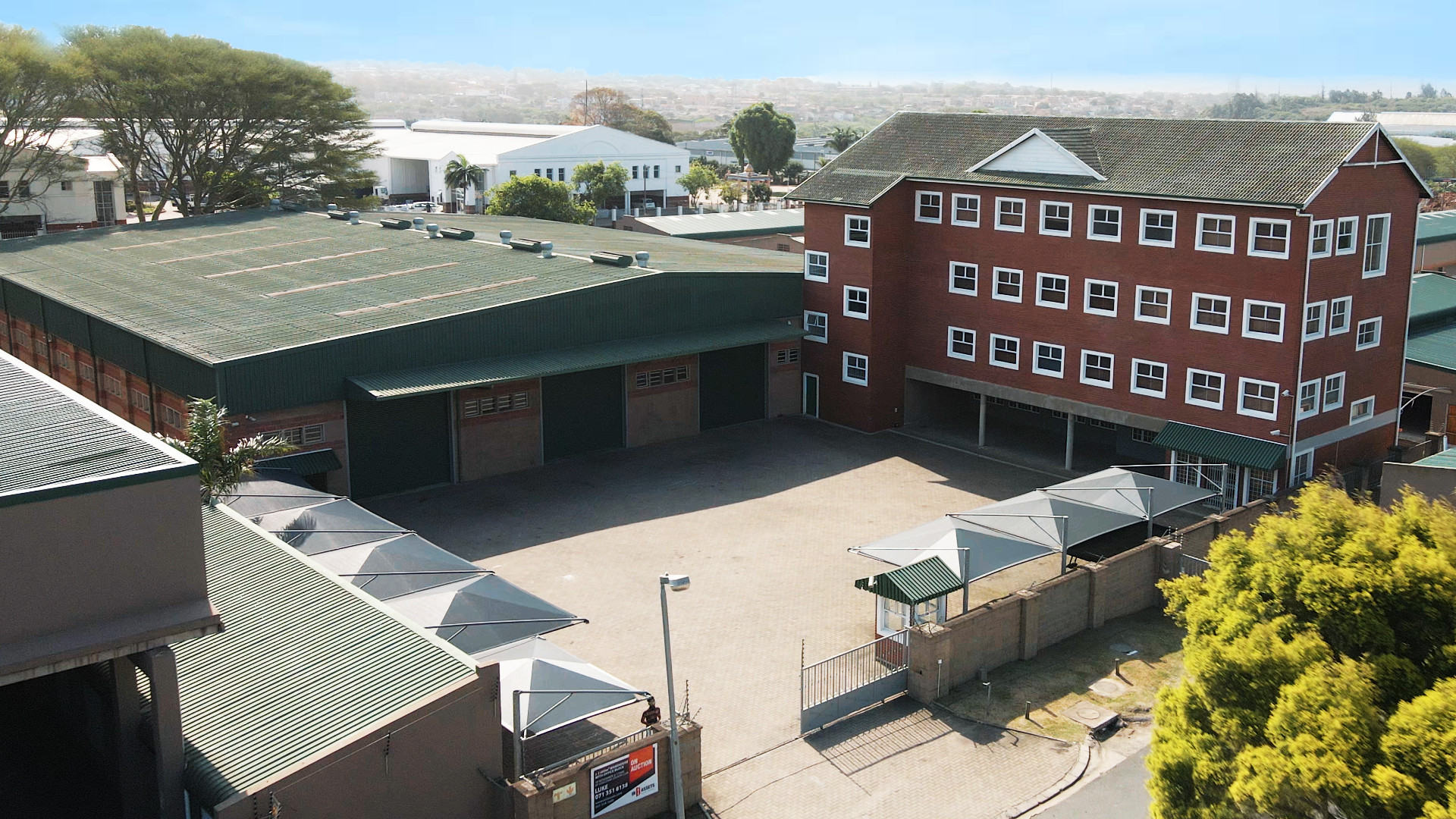 In2assets will be auctioning an industrial warehouse with an office block in Mount Edgecombe on November 18 at 11 am at the Mount Edgecombe Country Club. 10 Dumat Place has about 2 000m² of warehousing with an internal height of 6m at the eaves and 8m at the apex. It has three 5m x 5m roller doors facing the yard and one to the rear of the property with access to a smaller yard area.
The warehouse has wide, clear span areas great for racking. There is a concrete office in the centre and ablutions can be accessed from the floor. It has a 100 amp 3-phase power supply.
The building has low-maintenance face-brick walls with IBR roofing. Inside, the warehouse has clean floors and plenty of natural lighting through the windows and translucent ceiling panels. There is foil sisalation in the ceilings.
A staircase connects the warehouse the office space. Situated over three floors, it is a mixture of open-plan and individual offices. The offices have tiled floors, fluorescent lighting and split air conditioning throughout. The walls have been freshly painted. There are also kitchenettes and ablutions on each of the floors. There is a server room and storeroom within the office building. The building's overhang provides undercover parking.
To the rear of the property are three large containers, used for storage, and a generator, which form part of the sale, along with air conditioning units, two chandeliers and Trellidoors.
The property is secure, fully fenced with electric fencing and there is a guardhouse at the gate. There is ample yard space and parking for trucks or staff vehicles. It is on the western periphery of Mount Edgecombe, developed around the Mount Edgecombe Country Estate. The area can be accessed from the M41 or the R102 North Coast Road, both of which connect to the N2. The M41 stretches over the N2 into Umhlanga and the Umhlanga New Town Centre, which is home to the Gateway Theatre of Shopping, five minutes away.
"This is an impressive industrial property, with a generous office component, with an abundance of potential. The office space can be easily re-configured to suit one's needs. The property is in great condition and has been maintained very well. "It is in a very secure mixed-use area and has great access to arterial routes including the M41 and the N2. It is also a unique commercial location as it is surrounded by middle to upmarket residential nodes," says Luke Hearn who is handling the sale.
"The area has always been considered a high-demand node, which seems to provide good investment returns to end-use owners and investors alike."For more information contact Luke Hearn at 071 351 8138, 031 574 7600 or
[email protected]
Bids can be submitted remotely via the In2assets online bidding platform https://auctions.in2assets.co.za accessible from PC or by downloading the In2assets App from the Google Play Store or App Store.