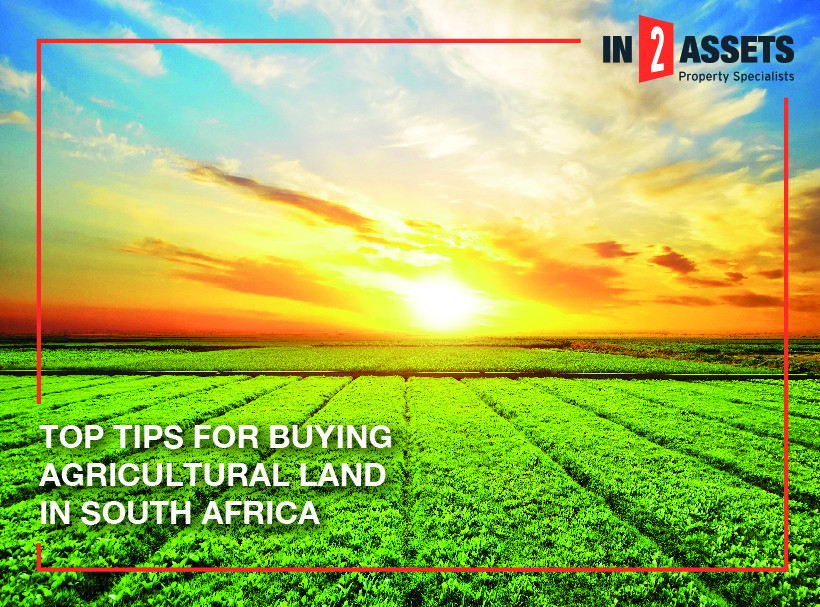 When purchasing land for agricultural purposes there are a number of factors to consider. South Africa has some great farming land throughout the country and different areas suit different crops better than others.
In2assets assists buyers and sellers with agricultural land sales and purchases to make sure both parties get the best end result. Here are some top tips to consider when purchasing agricultural land in South Africa.


Have the land valued by a registered appraiser, and the farm's potential evaluated by an agricultural economist supported by grid-mapping soil analysis, among others.


Avoid making emotional purchases. A piece of land might have an amazing view, but this does not make for a successful farm.


A chemical analysis of the soil should be done and factors such as location proximity to markets, as well as rainfall and infrastructure, should be considered.


Avoid purchasing land that is close to informal settlements or townships because of the limited opportunity for reselling.


Clarify what situations exist regarding water rights, mineral rights, and land claims. This information is often available from the respective state departments' regional offices.


Safety and security, stock theft and infrastructure should be considered, as well as the proximity of schools and state of the house.


Prior to the transfer, labor issues on the farm should be resolved by the seller and labor contracts terminated legally. The buyer can decide if he would like to invite the workers to reapply.


Clearly, state what instruments and equipment are included in the sale.


Last but not least, buying land does not make one a farmer.


While purchasing agricultural land through an auction might seem daunting, our team of experts at In2assets make is simple and are there to guide buyers and sellers every step of the way. For more information contact us on 0861 444 769 or [email protected].