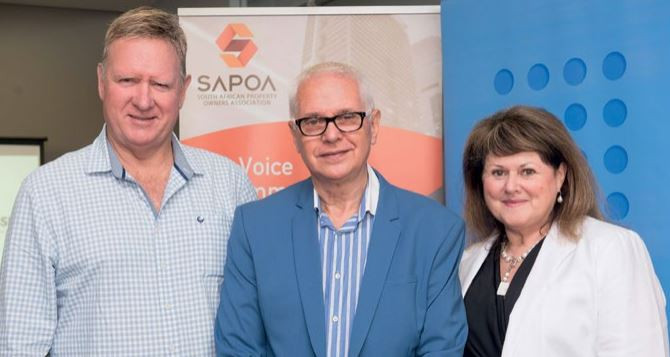 Durban property brokers, agents and service providers mingled over a leisurely breakfast in Umhlanga, taking in expansive views of the morning ocean and, most appropriately, the rapidly developing urban skyline as residential and commercial developments continue apace on the North Coast. By Lyse Comins
Business Partners and In2Assets hosted guests at the recent SAPOA Brokers' Breakfast Forum on the ridge at Strauss Daly's o­ffice premises. A light buffet breakfast in the firm's well-appointed entertainment lounge presented guests with a generous spread including muesli and yoghurt "shots", fresh mini-croissants, fruit kebabs, pastries and warm, bite-sized sausage and bacon treats. Guests were free to mingle on the elevated balcony and enjoy the ocean view, providing the perfect opportunity to catch up and network. Byron Jeacocks, Regional General Manager for Business Partners – which has assisted 103 entrepreneurs with R245-million in funding over the past year, and facilitated 349 jobs – urged guests to get involved with developing entrepreneurs through mentorship. "SME development is a future growth industry, and I strongly believe we should target the government: it needs to recognise the entrepreneurs in our midst and do something more for them," he said. "We look at entrepreneurs and only see the end-product of those who are successful. We don't see the trials and tribulations they have gone through to get there." According to Jeacocks, Business Partners has actively assisted entrepreneurs with additional finance so that they could approach banks to bond worthwhile property investments.
Guest speaker Andrew Miller, a leading South African auctioneer and the founding partner of In2Assets, highlighted the current commercial property climate, noting that Durban was outperforming Johannesburg and Cape Town despite the poor economic indicators. He justified his positive outlook for Durban by listing the city's myriad global achievements and developments. "Durban is one of the New7Wonders Cities of the world, and is South Africa's top-performing city for the growth of millionaires since 2000, according to the New World Wealth Report," Miller said. "It was also the number-one city for quality of living in Africa for three years (2015 to 2017) according to Mercer Consulting, and it featured at number seven on the top 52 Places to Go in 2015, according to the New York Times." Additional attributes were its rating among the top 10 coastal metro port cities in the world (according to National Geographic), its number-one position on British Airways' list of "Must See Destinations for 2019" and, not least, its ranking as the number-one city in Africa, and among the top 50 globally, for return on investment on residential property. Durban's property development market is booming, with projects such as the Point Waterfront development and Phase 2 of the Dube Tradeport development – a highly sought-after business investment destination on the continent. Plans for the Point Waterfront development include a 55-storey skyscraper, a residential tower, a retail mall and hotel. However, Miller said the construction industry was taking strain nationally, with four out of the top 10 construction ­ firms currently under business rescue. "This has a knock-on effect on subcontractors such as tilers, plumbers and kitchen ­ fitters," he said. "Properties are becoming vacant because small businesses are no longer able to operate and honour their leases. Conversion to online shopping is compounding vacancies in retail centres."
Miller also said the middle-income market of households earning R60 000 per month, which net approximately R40 000, was also under pressure as people did not have disposable income after paying for high costs of living expenses such as school fees. Similarly, the agricultural property sector was under pressure, and farm prices had dropped by more than a third as a result of the threat of land expropriation without compensation. The technical economic recession, rising petrol prices and inflation, a weakened currency and drought had also hit farmers. Focusing on Johannesburg, Durban and Cape Town's commercial property outlook for office space, Miller said economic indicators showed that Durban's performance outstripped the other centres. Cape Town's office space market remained fairly stable, with a small development pipeline, of which 80% comprised speculative developments. Johannesburg was suffering from an oversupply of office space, particularly in Sandton, with the industrial development pipeline focusing on midi-units. "Office space is under serious threat at the moment, and investors in the Sandton area are sweating big time," he said. "One of the major banks is eliminating its outlying branches so vacancies are happening around country." Shopping malls were also impacted by online shopping.
"The conversion to online shopping around the world is compounding the vacancy problem in retail centres – but one of the sectors that is thriving as a result of online demand is the logistics sector," said Miller. "Durban has a great number of logistics hubs – and this is a very strong market at the moment." According to Miller, demand for prime office and industrial space in the city was improving. "Durban far outstrips any of the other centres in terms of performance – but the main challenge here is the municipalities' turnaround in getting zoning applications through," he said. In the end, he described Durban as "a gem of the African continent". "These are all positive things that are taking place in the province and the city," he said. "As brokers, we tend to see the negative on television and social media. But Durban really is one of the gems of the African continent – and if we take that passion out to the world, soon a wave of optimism will take place. It needs to start with us."