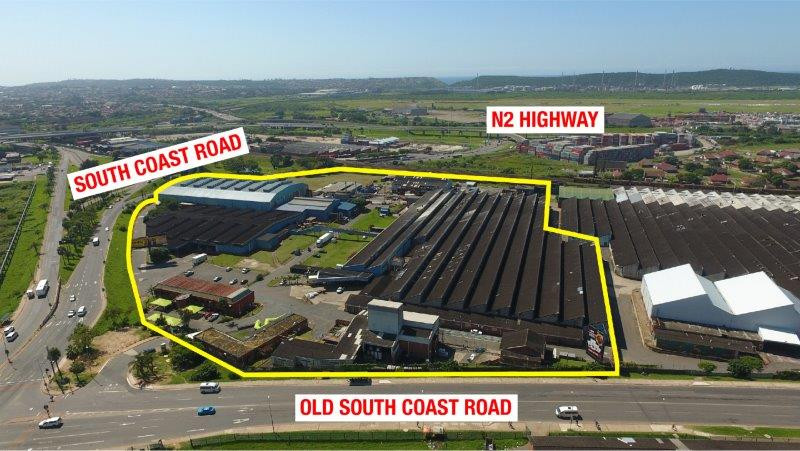 Large industrial property in Mobeni with exceptionally diverse potential for developers and end-users will be among the diverse lots for the In2assets Live Studio Online multi-property auction on Wednesday 3 June at 11am.
The Mobeni property – currently under Business Rescue – is located at 2096 South Coast Road and offers "a rare development opportunity", according to Luke Hearn, who is handling the auction.
Hearn says the property of about 76 650 m² (with a gross building area of about ± 35 981 m²) currently comprises several top-quality facilities and large yard areas. "Some of the improvements include warehousing components, offices, ablutions, staff change rooms and canteens. It also has a strong power supply as well as multiple roller-shutter doors for access into the warehouses. The proximity to freeways, arterial routes and accessibility to the Port of Durban make this a rare development opportunity," he states.
Among other prime properties to be auctioned on Wednesday are:
• About 59 hectares of land in Mpushini Business Park on the N3 with environmental approval for mixed-use development.
• Six-bedroomed mansion with spectacular sea views at 3 Michel Avenue, Umhlanga Rocks.
• Four-storey commercial block at 52 Joe Slovo (Field) Street in the Durban CBD to be sold unoccupied.
• Three-bedroomed sectional title residential unit in a "quiet complex" in Marine Drive, Margate.
• Five sections of investment property in a high trade zone in Pietermaritzburg with total gross lettable area of about 1 272m2.
• Blue chip building in Old Main Road, Kloof, with Liberty Group as tenants.
• Eight Grade-A offices in West Palm Boulevard, Umhlanga with combined extent of about 1 049m2.
• Student accommodation at 108 Maud Mfusi (St George's) Street where the previous tenants were students of the University of KZN.
• Two industrial properties in Parkhill, Durban North, sized about 693 and 587m2, respectively.
For more information about these properties and the Online bidding email
[email protected]