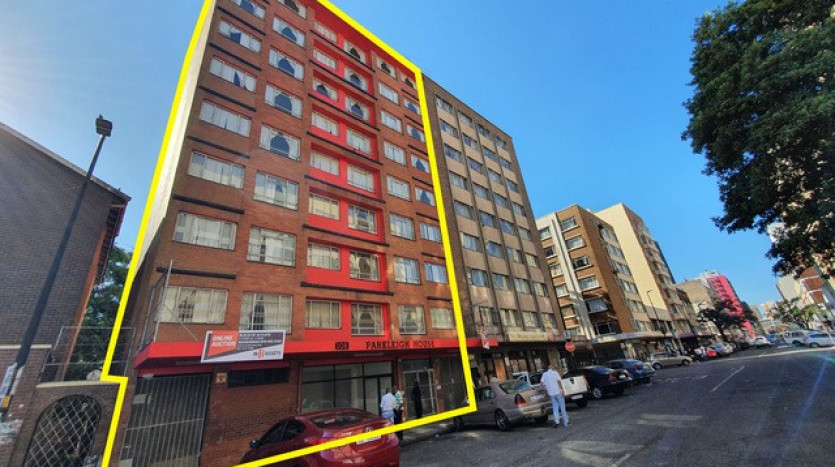 In2assets will at its next live - as well as online - multi-property auction at the Durban Country Club on September 15 at 11am, offer one of the most sought-after type of property investment on the market today: student accommodation in an entire high-rise and centrally-located block of flats.
Parkleigh House, at 108 Maud Mfusi (St George's) Street in the Durban CBD was, previously occupied by 128 students of the University of KZN, residing in 16 three-bedroomed and eight two-bedroomed flats, all covering a total gross building area of about 1 997m2.
The now vacant property residential rental block has a ground floor shop of about 130 m² facing Maud Mfusi Street and eight residential storeys, serviced by a 630kg lift. The residential floors have three flats each: two three-bedroomed and a two-bedroomed unit, all with separate lounge, kitchen, toilet, and shower. There are also TV and laundry rooms, a delivery driveway that extends underneath the lower floor, small paved courtyard at the back, and a steel emergency staircase attached to the rear of the building. The rooftop, used as a drying area, offers city views.
Muhammad Ali, who is handling the auction for In2assets, says Parkleigh House has been used for student accommodation since 2011. "It is fully compliant and fitted to University of KZN specifications and was leased by the university for the past eight years. The apartments are fully furnished with beds, fridges, stoves, cupboards, and movable items, which will be included in the sale of the property," Ali states.
The block, on a plot of about 356m2, is close to the corner of Park and Maud Mfusi streets and just one block west of Joseph Nduli (Russell) Street. Tourist and recreational amenities such as Wilson's Wharf and Durban's Yacht Mole are also nearby.
"Albert Park is one of nine Urban Development Zones (UDZ) forming part of Durban's Inner-City revival program which aims to stimulate new investment and urban regeneration to the CBD through tax saving incentives for new development or building restoration. Some accommodation has been upgraded, and general landscaping and improved cleanliness and security have stimulated new investment in the area," Ali adds.
For more information and viewing arrangements in terms of the pandemic regulations, contact him at 079 458 4256 or 031 574 7600 or email
[email protected]
To register and attend the auction, email
[email protected]
as attendance is strictly by invitation to comply with Covid-19 regulations. Bids can be submitted via the In2assets online bidding platform https://auctions.in2assets.co.za accessible from both PC or by downloading the In2assets App from the Google Play Store or App Store.