Small Improvements To Make Your Property Desirable
Ultimately, as the owner of commercial property, your aim is to make money. However, this won't happen if you are experiencing frequent vacancies within your property and this also makes it difficult when the time comes to sell your commercial property.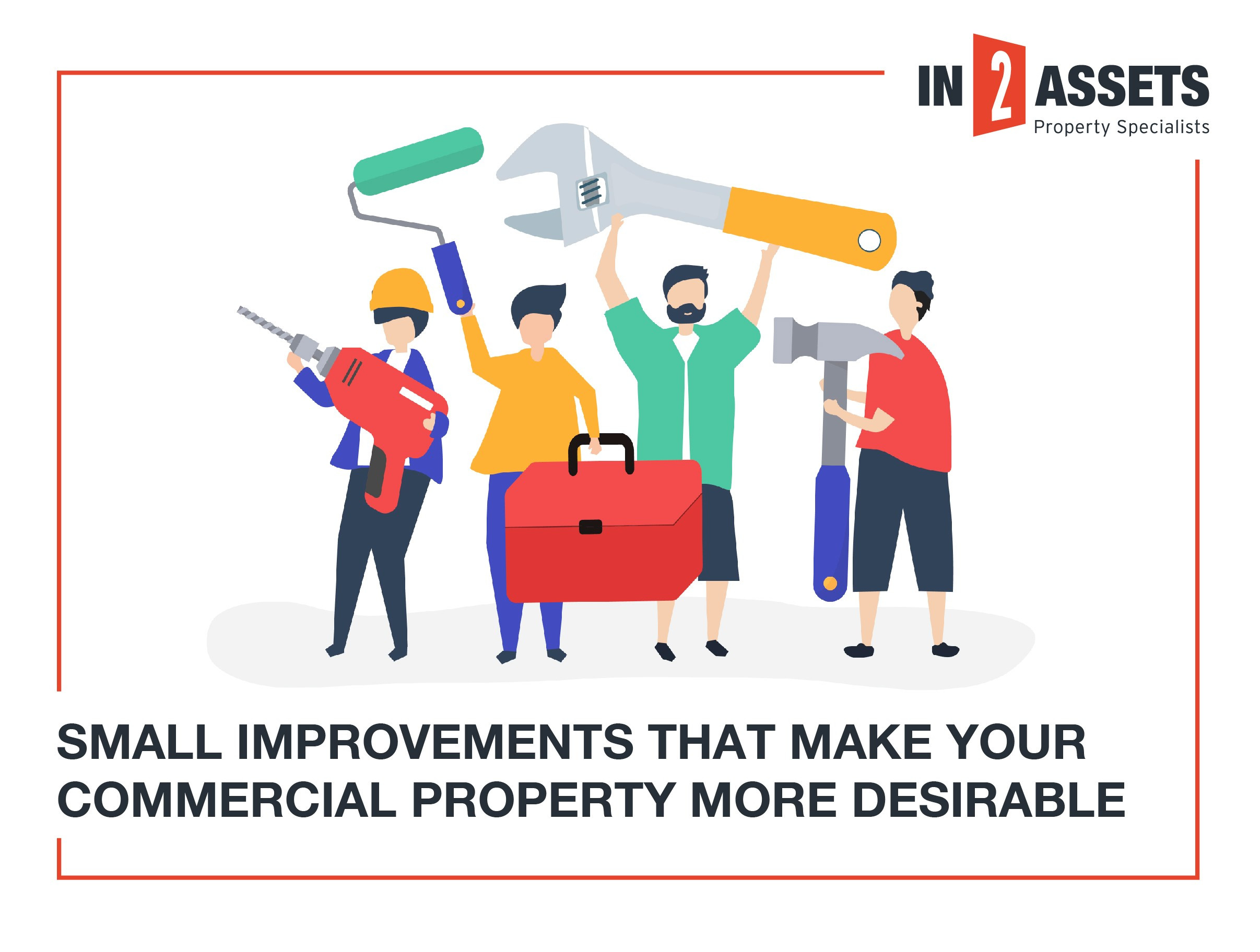 There are a number of small and inexpensive upgrades you can make on your commercial property in order to make it more appealing to tenants. In2assets sheds some light on these quick-fixes below.
Compare your property to those around you.
Take a look at the other buildings that surround yours and compare your building to the others. How does your building measure up? Is it dull and run-down while the other buildings are new and modern? Are the pavements neat and maintained?
Smarten your building up.
A fresh coat of painting on both the exterior and interior of the building, as well as on fences around the building will have an immediate effect, improving your building's look significantly. The colour scheme of your building needs to be appealing so keep colours muted and choose something that won't date. You will also want to get your building a really nice name-board to be displayed at the entrance.
Keep any indoor and outdoor plants well-manicured, and we would recommend having these as they add a sense of peace and are said to reduce stress in an office space. They also add to the aesthetic of your building.
You will need to have a designated area for refuse and recycling, and this needs to be kept neat and clean at all times. It is also best to keep this area out of sight of customers and tenants. Important parts of your building, such as staircases, fire escapes, emergency signage, and air-conditioning units should all be in good working order, dust-free and clearly visible/signposted.
Create a welcoming reception area.
The reception area is the first area that people will see, so you want to make a good impression. Again, we would recommend adding plants to this area for an inviting and beautiful aesthetic appeal. If your building is vacant, make your reception area seem brighter by turning on the interior lights and opening any blinds to allow in as much natural light as possible. Any permanent items, such as desks, should be polished and in good condition.
Make sure your building is clean!
This is important. Although your prospective tenant may be impressed by the exterior of your building, if the interior is not up to scratch then it's no good. Make sure there are no spider webs and no dust on floors, walls, and ceilings. Toilets and sinks need to be spotless, in good working order and smelling fresh and clean. Mirrors should be shining, as should all chrome fixtures. Windows need to be crystal clear to show off those great views.
While these suggestions might seem a little daunting to commercial property owners, they will cost far less than having to do a complete professional makeover of your property and will impress tenants.