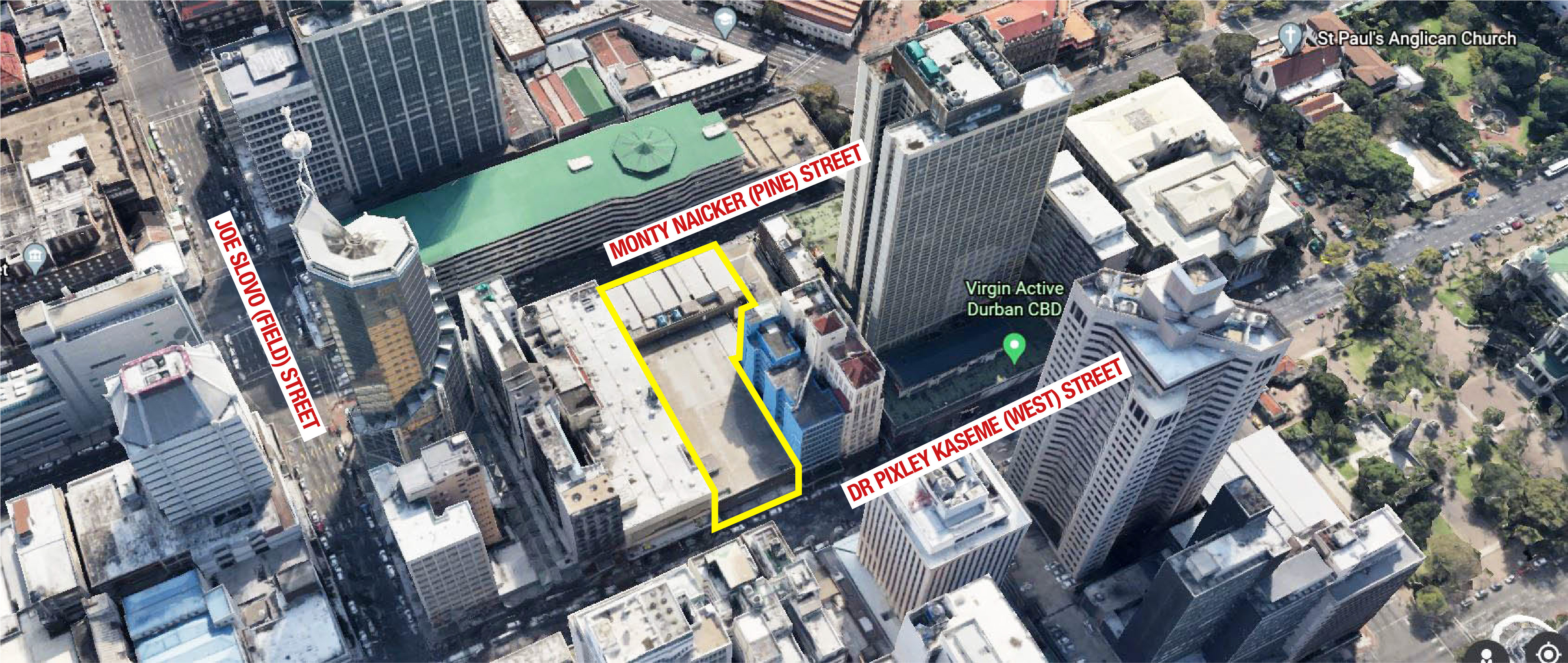 In2assets will be auctioning a retail building with national blue-chip tenants on May 19 at 11am at the Mount Edgecombe Country Club Estate.
The retail and commercial building 336-342 Dr Pixley Kaseme (West) Street is approximately 120m from two of the busiest intersections of the Durban CBD. Retail giant Woolworths has been occupying this building since the 1930s. Other blue chip anchor tenants include Ackermans and Studio 88. There are a further seven tenants who have been occupying the property for many years.
The Gross Annual Income generated from the property amounts to R15.6 million (inclusive of recoveries) for approximately 6 280 m² of lettable area. Fronting onto Monty Naicker (Pine) Street there are five well-established provincial and national tenants. Among them are retail clothing stores Ginger Bhagwandas and Bah Boutique; Pep Cell, a division of national retailer Pepkor Trading and Honchos Flame Grilled Chicken, a popular national food outlet. The arcade provides access to Woolworths off Monty Naicker Street. Apart from Studio 88 and Bah Boutique, the arcade accommodates three more tenants - a salon, an optician, and national clothing retailer Rage. Each shop has a rear kitchenette/storeroom.
The rear passages of the shops consist of storerooms, ablution facilities, plant rooms, cooler rooms, security offices, and basement storage areas. The entire property has fire safety measures and sprinklers in place. All interior movables and immovable items belonging to the tenants are excluded from the sale. The property is in the heart of the Durban CBD with frontage to Dr Pixley Kaseme Street and Monty Naicker Street, which have high vehicle and pedestrian traffic. It falls within eThekwini's new Urban Development Zone. For more information, contact Virend Deonarain at 071 383 1735, 031 574 7600 or
[email protected]
Email
[email protected]
to attend the auction as attendance is strictly by invitation due to Covid-19 regulations. Bids can be submitted remotely via the In2assets online bidding platform https://auctions.in2assets.co.za accessible from PC or by downloading the In2assets App from the Google Play Store or App Store.