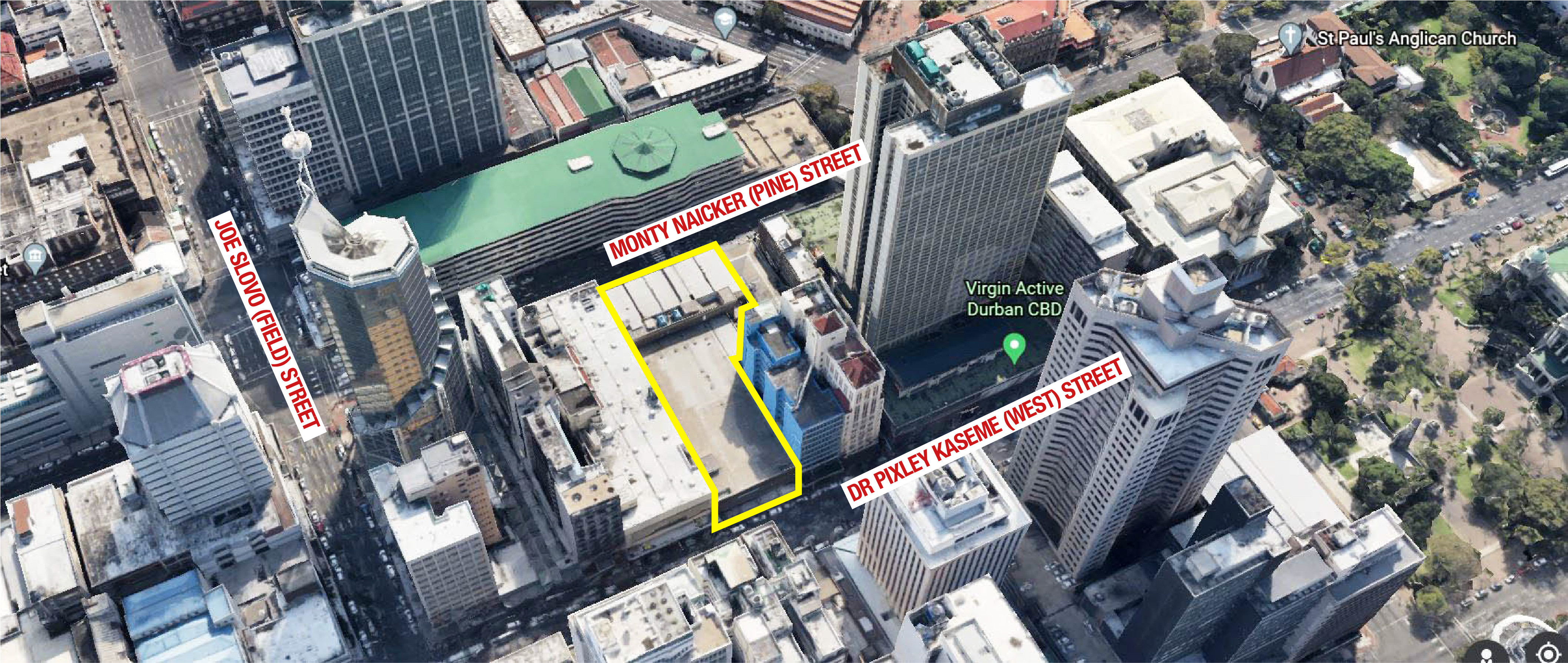 In2assets will be auctioning a retail and commercial building in the heart of the Durban CBD at the Mount Edgecombe Country Club on May 19 at 11am.
The property comprises about 6 280m² of lettable area. The anchor blue-chip tenants are Woolworths, Ackermans, and Studio 88. Woolworths has been occupying this building since the 1930s and it was once their flagship store. There are eight other tenants who are occupying the property for years and one tenant for decades. Fronting Dr Pixley Kaseme (West) Street, the building comprises two floors of retail space with supporting storerooms. The ground floor, which has high glass windows, is secured with roller-shutter doors.
Both the ground floor and the first floor are serviced by an escalator. In the section fronting Monty Naicker (Pine) Street, well-established provincial and national retailers occupy the ground floor shops. A passageway off Monty Naicker (Pine) Street links to the goods-receiving area for Ackermans. This area is serviced by a good hoist. There are various storerooms and ablution facilities at the rear of each shop. An arcade off Monty Naicker Street provides access to Woolworths.
The building is exposed to high volumes of vehicular and pedestrian traffic as it is about 120m from two of the busiest intersections of the Durban CBD. The gross annual income generated from the combination of all tenants amounts to approximately R13.2 million and the lease terms are strong. This annual income excludes recoveries, the auction house says.
Dr Pixley Kaseme Street is set for a transformation into a pedestrian-dominated linear park and upgrading of the public transport connection through the Durban CBD has already begun. The city recently announced a rejuvenation project to help revitalise and preserve Durban's inner city so eThekwini can live up to its vision of being Africa's most livable city. The till-point counters, shelving, cameras, air conditioning units, cold rooms, generators, storage enclosures, and shelving in the retail areas do not form part of the sale.
For more information, or to make an appointment, contact Virend Deonarain at 071 383 1735 or email
[email protected]
Email
[email protected]
to attend the auction as attendance is strictly by invitation due to Covid-19 regulations. Bids can be submitted remotely via the In2assets online bidding platform https://auctions.in2assets.co.za accessible from PC or by downloading the In2assets App from the Google Play Store or App Store.