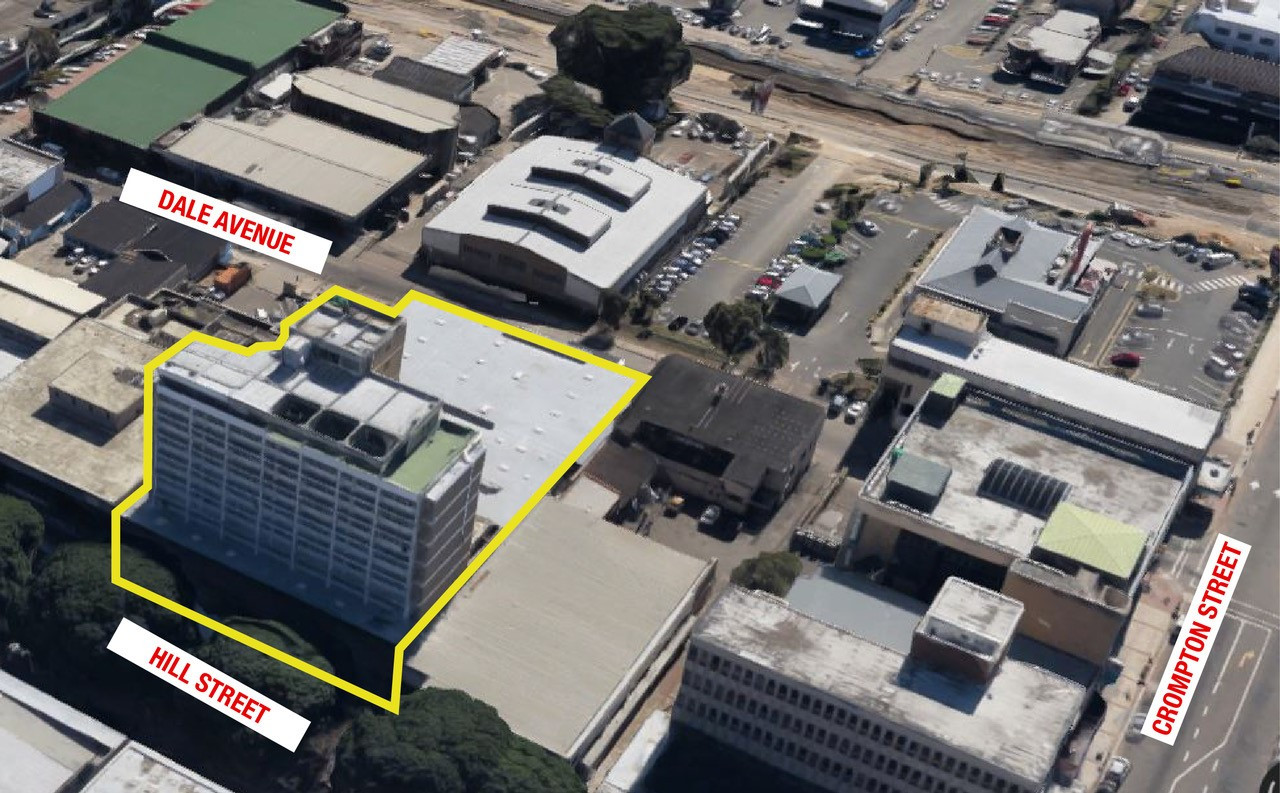 In2assets will be auctioning a commercial building in Hill Street, Pinetown, on April 21. The live auction, in compliance with Covid-19 regulations, combined with online bidding, will be at 11 am at the Mount Edgecombe Country Club.
This seven-storey block is in the heart of the Pinetown CBD, on Hill Street, one of the busiest roads in the Pinetown CBD. The property comprises basement parking, ground-floor retail shops, 55 apartments, and a penthouse. There is ample space to add more residential flats as well as to use the mezzanine level. The property is serviced by two lifts, with a contract in place with Schindler. The secure basement parking area is accessed via Dales Avenue through manned security. It comprises 68 parking bays, storerooms, a workshop, and the meter room. Sensor lights and sprinklers are in place.
There are four retail shops fronting onto Hill Street and two onto Dales Avenue. In addition, there are 13 shops in the arcade, which runs from Hill Street to Dales Avenue.
Architectural plans for the proposed conversion of a portion of the ground-floor retail entrance to a residential lobby area are available. There is a mezzanine level of approximately 858m², with two strong rooms. This level has potential for conversion into more residential apartments. Architectural plans are available. There are eight apartments each on floors 1 to 6 and seven studio apartments at split level.
The neat apartments, which have either one bedroom or two bedrooms, have an open-plan lounge and dining room and kitchenette with built-in cupboards and a bathroom (shower/tub, basin, and toilet). All have prepaid electricity and parking bays can be rented. The apartments range from 30m² to 54m² in extent. On the rooftop, there is a penthouse with two bedrooms, bathroom, living area, and a kitchen. "This location is exposed to the mass market due to the proximity to various public transport networks. The property lies in close proximity to the St Johns Checkers Centre, the Pine Crest Shopping Centre, Knowles SPAR, and the Crompton Hospital. Various government departments, such as the Pinetown Magistrate's Court, are nearby.
"This property would be ideal for student accommodation being positioned close to tertiary institutions. Apart from the UKZN Pinetown campus, there are approximately 15 other tertiary institutes in close proximity such as Richfield College, Boston City College, Elangeni College, College SA, and ETA College, to name a few. "Residential units are in strong demand in this area as tenants are within close proximity to Westmead Industrial Park and New Germany Industrial Node. There are several schools within the highway area which makes this position ideal for families," says Virend Deonarain, who is handling the sale.
For more information or to make an appointment, contact Virend Deonarain at 071 383 1735 or
[email protected]
Email
[email protected]
to attend the auction as attendance is strictly by invite due to Covid-19 Regulations. Bids can be submitted remotely via the In2assets online bidding platform https://auctions.in2assets.co.za accessible from PC or by downloading the In2assets App from the Google Play Store or App Store.