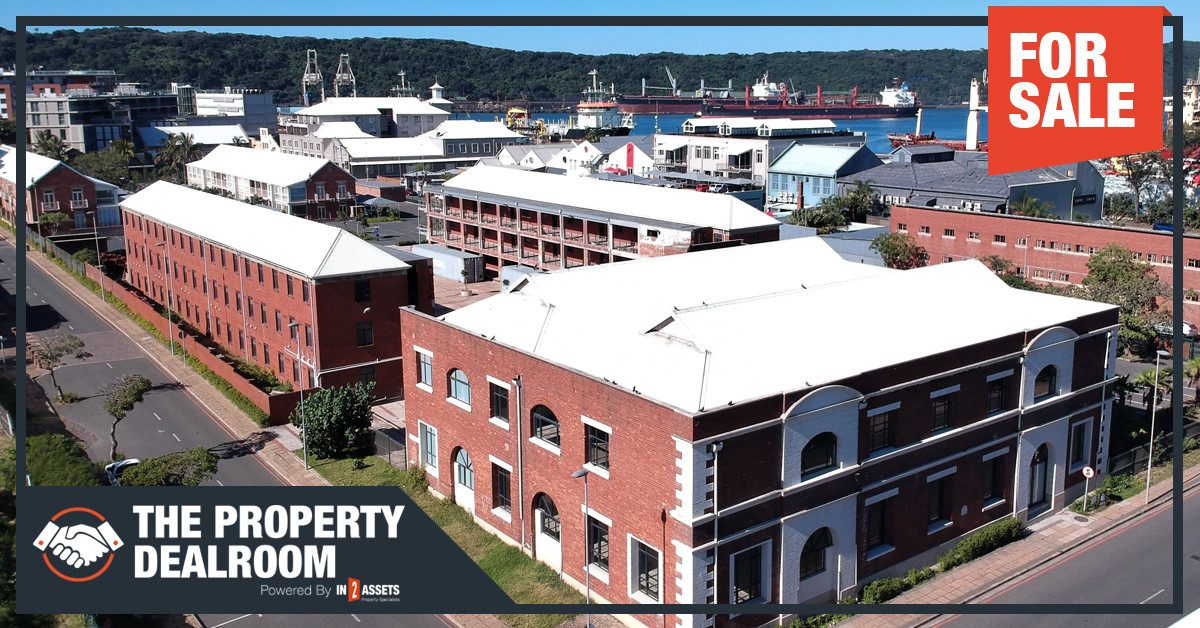 In2assets, the national property marketing company announces the sale of a remarkable property, the historical Stevedore buildings, situated within the Point Harbour Precinct which is earmarked as the focal point for further tourism development in the immediate future.
Rainer Stenzhorn from In2assets who have been mandated to sell this unique property, explains the significant opportunity that presents itself to the market.
The location of the property which is only a short walking distance from Ushaka Marine World and flanking the harbour mouth can only be described as a "rare and unique location", enhanced by the current construction of the new Cruise Liner Terminal on the same street.
This ± 12700 m² property will benefit from the passing traffic to and from the new Terminal and passengers of future international cruise liners will now be able to visit Durban, and alight from the ship through the new international passenger terminal directly onto the subject property, bringing valuable international tourists into this fast-developing node. The cruise terminal is an important step forward for Durban and fits in well with the larger project that links the port to the upgraded Southern end of the promenade on the Point Waterfront explains Stenzhorn further.
The Durban Port is regarded as one of the busiest ports in Africa and is directly accessible via the Durban CBD. The subject property consists out of a medley of buildings of which some have been turned already into upmarket residential flats. The commercial component contains three building blocks which already enjoy structural renovations just requiring the final touches for its proposed usage. The Layout of the existing buildings is very favourable to combine the same into an "under one roof" hub, to create an open Piazza or Market Square offering a full user experience. The main building consists of one big ground floor trading space, for example ideal for a spice and fish market combined with a convenience grocery store, where the upper floor is ideal for one or two themed restaurants.
The two three-storey original cantor buildings have been carefully divided into 36 potential retail shops with its own glass shop frontage all accessible via a balcony arcade connecting each unit. This layout will ideally suit small craft shops and souvenir shops which can form part of a market experience with retail outlets, workshops, coffee shops, small eateries all providing visitors a medley of trade and entertainment on one spot. 189 Parking bays, as well as newly built public toilets, provide the property the edge to be quickly turned into a new tourism key experience on Kwazulu Natal's Golden Mile concludes Stenzhorn. This property forms part of the recently launched In2assets Dealroom and more information can be gathered via
[email protected]
or the following link https://www.in2assets.co.za/dealroom-link