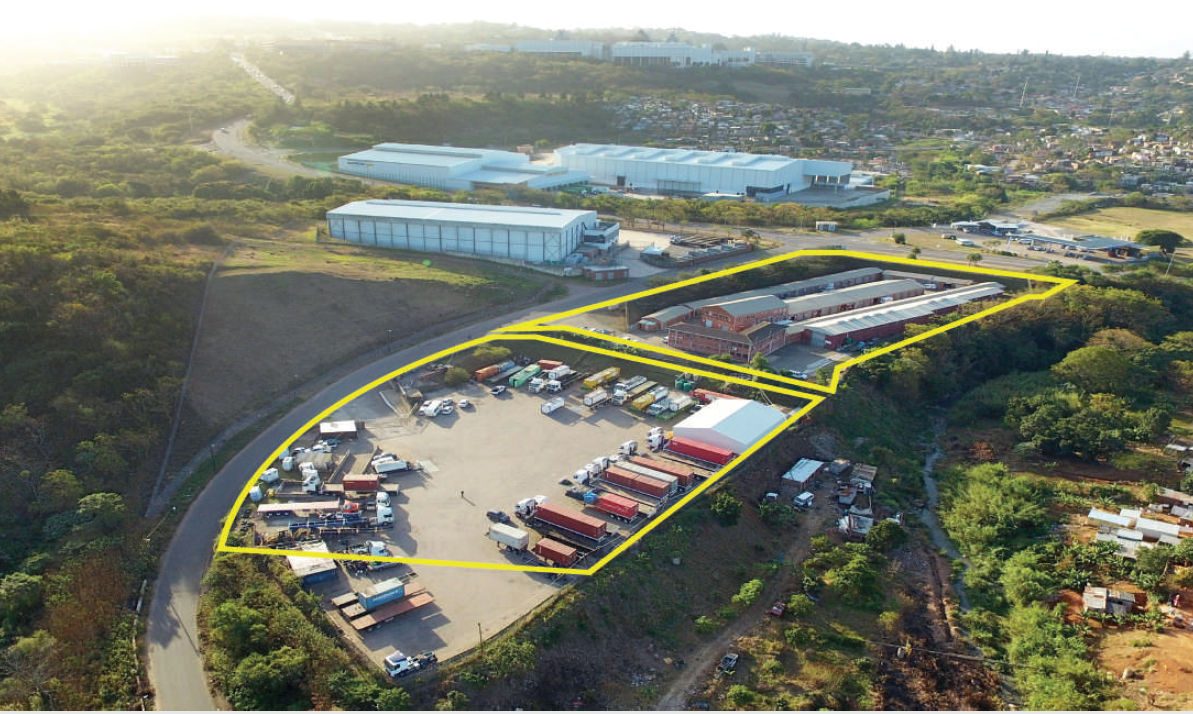 In2assets will at a live auction coupled with online bidding on August 20 at 11am at the Durban Country Club call for bids for a large industrial complex and platformed yard in the Cato Manor Business Park. The two centrally-located properties, at 290 and 300 Bambanani Street, are ideal for the transport and logistics industry, according to In2assets.
Luke Hearn, who is handling the auction, says the two lots are prominent structures in a prime location with quick and easy access to the N2 and N3 freeways, Durban Harbour, King Shaka International Airport, the Durban City Centre, and the business/industrial areas of Mobeni, Jacobs, Pinetown and New Germany.
The secure properties - fully-fenced and gated with 24-hour security – consist of:
• Erf 3939 Cato Manor – 8 246m²: a good mix of industrial, warehouse and office space.
• Erf 3940 Cato Manor – 8 820m²: platformed transport yard space.
"Erf 3939 is a tarred site with 102 fully-tenanted mini industrial units of roughly 22m² each. The well-constructed and well-maintained industrial units are flexible and can be converted from individual storage units to individual or multiple mini-factories. Currently there are 26 standard storage units in Block A and Block C1; 43 in Block B1; and seven in Block D1. Some have been converted into multiple units as tenants required. There are three office blocks on this property," Hearn states.
"Erf 3940, the transport yard, is fully-paved with interlocking clay bricks that can withstand loads of 150 tons per square metre. This type of platformed yard - rarely available and in huge demand - now has four month-to-month tenants. There is also a warehouse, guardhouse, ablution
facilities and an open veranda on this erf."
Hearn says Bambanani Street has a direct link via Harry Gwala Road to the N3 corridor at the Pavilion and Spine Road interchanges. The brilliant position allows for easy access to the greater Pinetown nodes as well as directly to the Port of Durban. From a transport and logistics point of view the position is ideal. Neighbouring properties include the Booth Road West Sasol petrol station, Ayoba Cold Storage, as well as Sumitomo Rubber SA. The properties are conveniently situated on the western periphery of Durban's central suburbs, with all necessary amenities nearby including The Pavilion Shopping Centre and Westville Hospital, which are both less than a kilometre away.
For more details and to view the property, contact Hearn at 071 351 8138 or email
[email protected]
To register and attend the live auction, email
[email protected]
as attendance is strictly by invitation to comply with Covid-19 regulations. Alternatively, bids can be submitted via the In2assets online bidding platform https://auctions.in2assets.co.za accessible from PC or by downloading the In2assets App from the Google Play Store or App Store. | Auctions Writer.