Commercial Real Estate Negotiation Expert
Gain the skills to become a Commercial Real Estate Negotiation Expert. Learn key elements that will make you a negotiation expert in commercial real estate.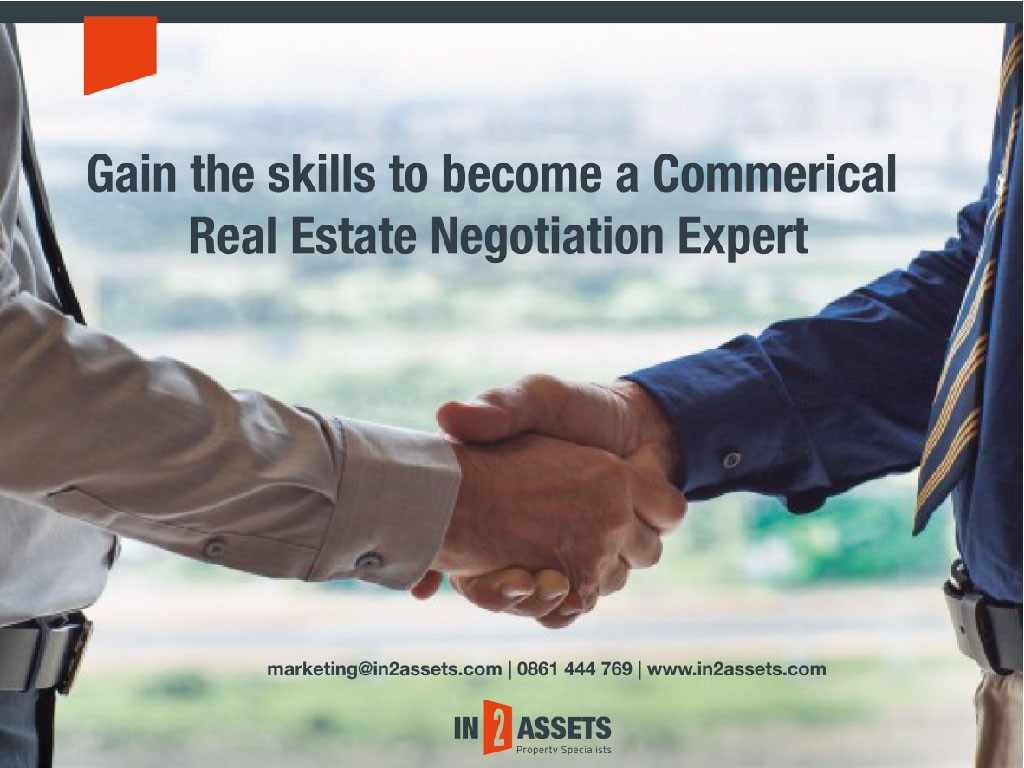 Learn key elements that will make you a negotiation expert in commercial real estate.
In commercial real estate or more commonly known in South Africa as commercial property, you are constantly going to need negotiation skills, says Rainer Stenzhorn of In2assets, the national property marketing company. Your negotiation skills will be put to use, not only in the process of creating an offer and working toward acceptance, but also with your contacts, other commercial brokers, buyers, sellers, landlords, property managers, architects and commercial finance houses. In any situation where there are more than two interested parties, you can be assured that negotiations must take place in order to satisfy everyone's goals or expectations, continues Stenzhorn.
Many people are afraid of negotiation, usually due to lack of experience. Once you begin practicing your skills, it will become easier for you, and may even become fun! Negotiation is filled with tactics and problem solving that are used to yield the best results for each party. Being a good negotiator is very important in the real estate business.
There are different negotiating styles that work for some people, but may not work for others. For example, some find success with a very strong, even intimidating approach in negotiation. I prefer to use a straight forward approach. I am prepared, informed and persuasive. I am confident, as I have anticipated the questions and concerns the other party may have, and will answer them, as needed, says Stenzhorn. This helps me to clearly and confidently negotiate terms. As a result, closing deals is often easy and can be fun. It is true that different styles should be used in different situations, so study others who negotiate and develop a style that works best for you!
In commercial and industrial real estate, as in most businesses, it is best to arrive at an agreement that is a win-win, meaning both parties are satisfied with the results at some level. If the strongest concerns of each party are addressed and a solution results, the agreement is of mutual benefit to both parties.
If you are not familiar with negotiation, I suggest that you take negotiation skills lessons which are offered widely, purchase a book, or find a seminar that covers the basics of negotiation. A large amount of information can be found on the Internet. There are many generic tips and tactics that will sharpen your negotiation abilities, and make it easier for you to get what it is that you want out of an opportunity.
In commercial and industrial real estate, there are specific negotiation tactics that can be written into contracts. Many of these tactics require some creativity and are specific to certain situations. Don't be afraid to get creative; after all, this is where commercial real estate becomes fun! You'll be surprised how you don't have to have everything figured out when you put a property under contract!
I highly suggest to first draft a letter of intent before purchasing a commercial property. In residential real estate, a letter of intent is usually not necessary, but in commercial real estate, I consider it a necessity, as it is a more complicated transaction.
The letter of intent should be clear, concise and not in legal format. It should appeal to the seller or landlord as a direct, personal letter, explaining your clients purchasing or letting intentions with the property. Many people put in terms, closing dates, length of due diligence, and so on in the letter of intent. Negotiation can take place here, without any money being permanently spent by the buyer, or a deal completed. It can open a dialogue between you and buyer and seller; and start negotiations early in the game without anything being 'set in stone', explained Stenzhorn further.
Another tactic that can be manifested into the letter of intent is known as an option to purchase. This option contract is a good way to investigate the property; the purchaser then has time to begin putting together a deal to make sure it is feasible. The offer of a certain amount of money can tie up the property in order to do some initial research, and not even mention closing a deal yet. This gives the option to the purchaser to decide to move on with a property and begin negotiating, or simply move on to the next opportunity in a short amount of time, by not exercising the option. The option can be as simple as 15 days to do some preliminary homework, and should the time frame not be enough, at the end of the 15 days, you may suggest to your client to extent the option for a full due diligence period, and continue with the purchasing process. However, Stenzhorn explains clearly: A serious buyer does know their game and if they are keen, they make sure to comply, because they are always at risk that the seller gives no further extension to a due diligence period, since other interested parties are knocking at their door.
Most offers in the conventional real estate business in South Afrika are subject to the fulfillment of certain conditions, which always keeps a door open for the seller to escape, and wastes a lot of time, comments Stenzhorn.
The only difference is when the seller decides to make use of the successful auction model. This is when all conditions are stipulated upfront by the seller and the purchaser must do his homework prior to the auction date. Auction forces decision making and eliminates procrastination in the process.
It is extremely important that we consider legal compliance to protect our own integrities as commercial and industrial real estate brokers.
For example, if you market a property currently zoned residential and the purchaser thinks that the city would be supportive of rezoning the property to commercial, do not use the term commercial in any document. We are selling what is there not what could be there which means we do not sell opportunities. If the deal turns sour the purchaser could claim damages and sue for misrepresentation.
Having a proper brochure with all the accurate details about the property, as well as legal contracts with contingency clauses, can be a great way to protect your own and the seller's interests.
As we all recognise, sellers or landlords have specific needs that need to be met. This often ends in deals that are not straight forward and under specific terms. However, always make sure that you are the negotiator, because down the line that is where your commission revenue arises. Do not get involved in illegal transactions and always comply with FICA regulations.
As you can see, great negotiation tactics in commercial and industrial real estate are vital to protect your interests and monetize results. Be creative with these negotiations, and always be confident when walking into a deal. Be prepared, informed and persuasive. It is also necessary for you to keep your emotions at bay and your ego out of negotiations. You must be prepared to walk away from any deal that is not legally compliant or where your experience from the onset tells you that the seller's expectations are not acceptable to the market, ends Stenzhorn. This article was drawn from Stenzhorn's 'Property Talk' distributed monthly to his Commercial Broker Network.