Cape Premier Yearling Sale Auctioneers
A View From The Rostrum POSTED ON JANUARY 22, 2017 Each sale acquires its own special flavour. The date, the venue, the horses and of course, the audience it attracts all combine to create a unique experience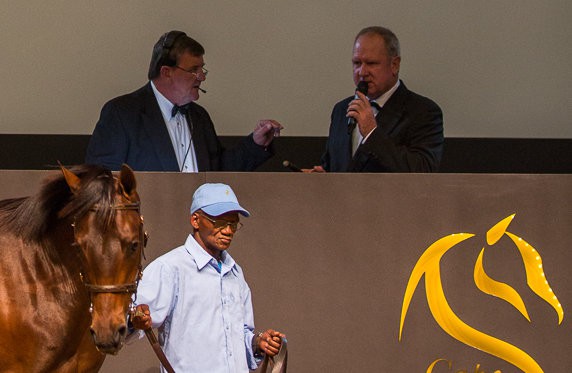 Each sale acquires its own special flavour. The date, the venue, the horses and of course, the audience it attracts all combine to create a unique experience. One of the ingredients that helps spice up the CTS Cape Premier Yearling Sale is the fantastic line-up of auctioneers, who have helped grow and shape the event – for that is what it has become – since its inception. We caught up with Andrew Miller and John O'Kelly to get a view from the rostrum.
Andrew Miller is a proudly South African talent, with many strings to his bow. His father was a livestock farmer and Andrew more or less grew up attending auctions. Readers might also be interested to know that his father, Mike, was a keen polo player and was the most capped Springbok player before hanging up his mallet. Andrew also played for many years and is an old hand at buying horses off the track to produce for polo, so has a long-standing affinity with Thoroughbreds. He has also done commentating work for radio and TV. His son David plays cricket for the Proteas.
Andrew has been an auctioneer since 1982, first working for a local livestock auction company before gaining experience in the USA, working and travelling with 5 of the leading auctioneers of the day. Andrew now owns his own auction company in Durban called In 2 Assets, specialising in commercial and industrial property, but he is still in high demand on the livestock circuit. He freelances to the stud stock industry and as an auctioneer has conducted thousands of sales over the past 35 years. "One builds a relationship with clients and you grow with them. One of the big livestock auctions has been booking me for the last 15 years. The regular sales are all planned well in advance, so your diary gets pre-populated." His association with racing started in 1986 when he started working with the TBA. So when the first Cape Premier Yearling Sale came around "I was already in the saddle, so to speak," he smiles.
Asked how the sale has grown since he joined he opines, "The Cape has some very good studs and a strong band of stallions, and I think it helps that the yearlings don't have to be traveled too far. There's been a concerted effort to get good horses and I've seen the catalogue improve and grow year on year and the prices have risen to reflect that. It is a sale that commands huge respect.
How does he prepare for a sale? "You've got to prepare and prepare properly. Each auction is different and it's basically a reality show, so there will be mistakes and things will go wrong and you have split seconds to rectify things. It can be difficult when there is no energy in the room, so it's important to know the characters and understand who's in your audience. Of course it's lovely when there's a buzz and I think this sale has created that. There's pizzazz and expectation. The venue, the stock, the overseas interest – it's a cocktail of things that all adds up to making it into what it is."
Is there a lot of pressure? "Sure, but you learn to grow with it. There's 1000+ people all waving, ordering food and drinks and you have to keep focussed. We each do 15 lots at a time, so that it's short, sharp and you can stay on top of your game. It's an industry shop window and it's an important one, so a lot rests on our shoulders to try and make it as good as possible. because what we do represents the company as well."
What are the challenges? "You are representing both parties up there, so you're up there to try and get the best possible result. You need to be fair to your bidders and of course you want your vendor back – it's important to him as it's cost him a lot of time and effort. There are significant values at stake and you can't afford to make mistakes. If you do, you need to move past them quickly and smartly. Preparation is key to try and eliminate as many potential problems as possible."
Highlights? "For me as a South African, having the opportunity to work with global superstars like John O'Kelly and Grant Burns. When you work in the trenches with them, you become friends and working alongside them is an absolute highlight."
John O'Kelly
John O'Kelly in action during the 2014 CPYS (photo: hamishNIVENPhotography)
We also managed to catch John O'Kelly in between yearling viewings. John has also been with the sale since day one and we asked for his insights. "It happened by accident, really," he says in his Irish lilt. "I was at a sale in Keeneland and picked up a leaflet for the first Cape Premier Yearling Sale. I bumped into Robin Bruss and said 'Oh, I see there's a new sale happening' and he asked "Why don't you come along?" I thought, "What a pleasure, as you say out here!" he chuckles. He's been coming ever since.
John also does extensive preparation and thoroughly examines all the lots he'll be selling beforehand. "I need to see every horse before I sell it. There are different types and different families and different things that one looks for in each. Of course everyone has their own way of doing things, but I think if you know what you're selling, it's more fun."
John earns his livelihood in the bloodstock business and works as a yearling sale inspector, mainly for Tattersalls. Has he seen a change in the CPYS draft over the years? "Oh absolutely. The physical specimens have improved out of sight since the first year and there are very few horses that don't merit being here. It's a very early sale, which makes it great timing for the international market, but it's a major job to select yearlings in the spring when they are still growing. Getting together a draft like this is an incredible achievement by your selectors, John Kramer and Tom Thornbury and makes our job easier, so well done to them and to the CTS directors. "Every year come October, one is already looking forward to January in the Cape. Where else would you rather be in January?"